Trucking Laws - Your Right to Safety on the Road
Moody Law is known for providing successful legal representation for victims of accidents involving commercial trucks. A thorough knowledge and understanding of federal and state truck regulations is essential in this area of law. The attorneys at our law firm serving Central Florida and Polk County, including Lakeland, Bartow, Winter Haven, and Haines City, have the expertise necessary to help you collect the compensation you deserve.
If you or a loved one has been involved in an accident with a commercial truck, schedule a free consultation with Moody Law today.
Why You Need a Truck Accident Lawyer
Strict Regulations
An accident between an automobile and a 10,000-pound truck can have devastating consequences. This is why truck drivers and the trucking industry are held to a much higher standard. The drivers of semi trucks, tractor trailers and 18-wheelers, along with their employers, are strictly regulated by the Federal Motor Carrier Safety Administration (FMCSA) and the Florida Department of Transportation.
Companies employing a truck driver (also called motor carriers) may be held liable in the event of an accident resulting from a driver's infraction. They are expected to maintain a strict standard for hiring and training, and to ensure that their employees take proper rest breaks and otherwise obey laws and regulations.
Truck drivers are required to undergo specialized training and to pass a road test to receive certification. There are strict guidelines for drivers regarding the number of hours they can drive, the freight they can carry, maintenance of their vehicles, and much more. Since safety is paramount, an individual may not be permitted to work as a truck driver if a physical impairment or limitation could affect his or her ability to operate the vehicle.
Traffic Rules for Truck Drivers
In the case of inclement weather, truck drivers are expected to exercise extreme caution, taking measures such as reducing speed or pulling over to stop. Rules for alcohol and drug use are extremely stringent, often prohibiting the use of certain cough medications and prescription drugs.
Other violations that can constitute negligence or reckless disregard on the part of a truck driver include:
Running a red light
Excessive speed
Blocking the road
Parking to cause a hazard
Improper turning
Aggressive driving
Inattention to road conditions
Distraction by electronics
Locking brakes and steering into oncoming traffic
Victim Compensation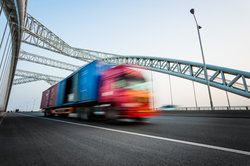 Because truck drivers and motor carriers are held to higher standards under the law, accidents are carefully scrutinized. Damages may be awarded for actual losses, such as medical costs and loss of current and future wages, as well as punitive damages for pain and suffering. Punitive damages are more likely to be awarded when reckless indifference is established on the part of the driver or motor carrier, in addition to negligence. Motor carriers also must keep detailed records and carry mandatory insurance, usually the MCS-90 endorsement, that pays judgments for negligence even if the truck is not covered under its insurance policy.
Contact Moody Law Today
The attorneys at Moody Law have extensive experience settling and trying trucking accident cases, and can help you secure the damages you will need to cope with the effects of a collision. Contact our office today to schedule a free consultation with a trucking accident attorney.